Foto: José Carlos Meirelles, s/d
Kaxarari
Other names

---

Caxarari

Where they are

How many

---

AM, RO
445 (Siasi/Sesai, 2014)

Linguistic family

---

Pano
Population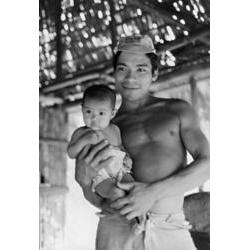 At the start of the 20th century the Kaxarari population was estimated at around 2,000 people (Masô 1910). From this period until the start of the 1980s the Kaxarari, killed by armed Peruvian caucho extractors and Brazilian rubber tappers and victims of viral epidemics, saw their population fall to less than 200 individuals. The first census was conduced in 1978 by the Funai team that carried out the first delimitation of the Kaxarari Indigenous Area. In total 109 people were recorded, 58 men and 51 women. Of these 53 lived inside the area delimited by Funai and another 56 lived outside its boundaries, dispersed in various localities (Cruvinel 1978). A new census by CPI-Acre in 1981 registered 129 Kaxarari. Of this total, 88 lived inside the area delimited by Funai in 1978 and another 41 were living spread along the BR-364 highway and the shores of the Marmelo, Vermelho and Abunã rivers (Meirelles 1981).
In 1983 CPI-Acre carried out a new census, registering 93 people living inside the indigenous area and around 16 families residing outside with approximately 60 people, making a total of 153 individuals.
(Aquino 1984)
According to the report on the visit to the area made by the Missionary Indigenist Council (Cimi) of Rondônia, the Kaxarari totalled around 135 people in 1984, living in the villages, along the BR-364 and outside the area delimited by Funai.
The demographic census conduced in July 1993 by the head of the Indigenist Post presented a total of 192 individuals. Approximately sixty per cent of the Kaxarari population was under the age of 20, while 34 per cent was in the 20-50 year age range with only around six per cent represented by people over the age of 50 (Report of the Visit to the Kaxarari Indigenous Area. Funai 1997).
According to data from the National Health Foundation (Funasa), there were around 318 Kaxarari in mid 2009.